In a month when Pennsylvania lawmakers are generally consumed by budget negotiations behind the scenes as the fiscal year comes to a close, the topic of school choice has dominated public discourse in recent days.
The House of Representatives approved a package of four bills this week designed to reform and improve the operations of charter schools, signaling an intent to modernize the way the publicly funded, privately run institutions operate. But just days after the Senate passed a bill that would have at least doubled the scope of the Educational Improvement Tax Credit program, word has emerged that Democratic Gov. Tom Wolf intends to veto that legislation.
House Bill 800 would boost the EITC by $100 million immediately to provide more scholarships for families to send their children to the schools of their choice, and it also includes a provision for a 10 percent increase in any year where the use of the EITC comes within 10 percent of its cap. Sponsored by House Speaker Mike Turzai, R-McCandless, the legislation passed in both chambers largely along party lines.
Given the strong partisan split on HB800, many onlookers expected that a veto was likely, and media reports from a Wednesday event in Philadelphia quoted the governor saying he would indeed veto the bill.
Regardless of the fate of the EITC legislation, the four new bills related to charter schools are on now in the Senate for consideration there after much heated debate and near party-line votes in the House. In a series of testy exchanges with Democratic lawmakers this week, Turzai admonished those debating the merits of the charter school bills not to conflate them with HB800 and focus on the specific proposals as they came up for vote.
But to Rep. Michael Carroll, D-Hughestown, considering any charter school legislation sponsored by Republican lawmakers was unthinkable until Democrats' concerns about school funding are addressed.
"A no vote on this bill and the other three bills will send a message to our school districts and our students, and our parents, and our teachers and the residents who pay property taxes, that we're not interested in any charter school bill until we actually figure out how to properly fund charter education in this state," Carroll said during floor debate. "The time has come to stand up for students. The time has come to stand up for taxpayers, and not charter schools."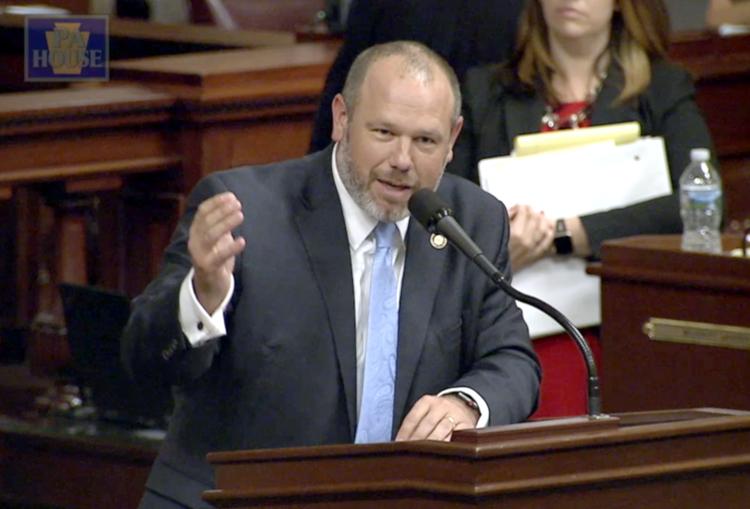 Carroll's assertions drew a direct rebuttal from Rep. Jesse Topper, R-Bedford, sponsor of House Bill 357, one of the four bills in the charters package. Topper insisted that the welfare and education of children was precisely what was on his mind as he and the other lawmakers drew up the legislation.
"What we're trying to do … is to break down some of the walls, that we have created ourselves with charters, cyber [charters], traditional public [schools], non-public schools, home educating programs," Topper said. "Our goal is the same – to ensure that every child has access to a high quality education. And I believe that this package of bills sets the foundation, not to be the last discussion, but to be the first of many in how we do that."
Topper's bill specifically seeks to streamline how charter schools in the state deal with applications, enrollment, attendance and a number of other operational details. The other three bills are HB355, which has ethics, auditing and transparency reforms; HB356, which updates guidelines related to charter school facilities; and HB358, which allows dual-enrollment agreements between charter schools and higher education institutions.