The chairman of Pennsylvania's state Senate Appropriations Committee pressed leaders of the state's law enforcement to take action in getting some money back on a statewide radio system project that's been a boondoggle for taxpayers stretching more than two decades.
Sen. Pat Browne also asked members of the Pennsylvania State Police during a budget hearing Thursday when an audit into the program would be released. And the Allentown Republican asked what steps the force would take after the findings have been released.
"The audit's got to lead to something," he said.
One thing Browne would like to see is the state get back some of the money taxpayers have paid for a system that officials ultimately decided to scrap after it did not work as expected. Initial costs for the project were estimated at around $180 million, but Browne estimated the state has spent close to $1 billion.
The audit, he said, would give taxpayers certainty.
"Statewide radio has been part of our financial concern in relation to public safety for a very long time," he added. "So, it's great to hear that it seems like we're hitting our stride here. The audit was an important request, I guess, from the last hearing schedule, and I'm pleased to see, speaking on behalf of others who are interested that it's apparently done."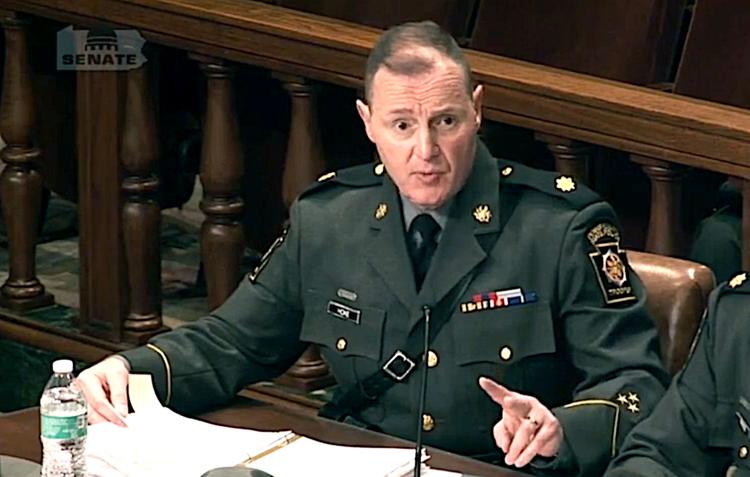 Major Edward Hoke told Browne he agreed "wholeheartedly" with the senator's assessment, but did not know when the audit report would be released.
A new system, deployed by Motorola, is expected to go statewide by the end of the year.
Lawmakers also questioned whether the state police have adequate funding for handling law enforcement duties in municipalities. State Sen. Pat Stefano, R-Bullskin Township, asked what would happen if the $100 million budgeted for that work ran out.
Lt. Col. Robert Evanchick, the force's acting commissioner, said that would affect how the state police responded to certain calls for service. It also could impact how troopers can provide assistance to their local or federal colleagues.
Adding to the strain would be another $70 million in equipment needs, Evanchick added. The force would need to redirect money from other areas to replace vests, helmets and other tactical gear that's nearing the end of its useful life.
How to get extra funding is an issue, Evanchick said. The state police cannot charge communities for some services, such as aviation.
The force does bill for the use of its lab, but most of that is based on restitution. Of the $17 million the state police billed for lab work, it only got back $1.3 million. Some of that was lost, Evanchick said, when cases were prosecuted. In other cases, victims and counties received higher priority for funds.
"Usually, we're near the end of the line," Evanchick said, when it comes to getting reimbursed.
Lab fees haven't been raised in about a decade, but Evanchick could not guarantee that would lead to a rise in revenues.