Pennsylvania's 67 counties are currently in the process of updating their voting machine systems to comply with a state directive designed to ensure accurate vote totals via paper ballots.
At the same time, according to the state Auditor General's office, officials in almost a third of those counties have accepted gifts and free travel from the very companies that are bidding for the right to provide those machines.
Auditor General Eugene DePasquale revealed the results of his office's survey of each of the 67 counties. The counties voluntarily provided information on gifts, since DePasquale lacks the power to compel their compliance, though he said he did have to resort to using public pressure to get some jurisdictions to turn over the information.
In 18 counties, DePasquale said, local officials accepted benefits such as travel to places like Las Vegas, tickets to a wine festival and distillery tour, dinners at high-end restaurants, open bar at a conference for elections officials and more.
Earning the business of these county elections officials is a high-stakes proposition for voting machine companies, with estimates ranging from $125 million to $150 million for the total cost for the replacement of all the state's voting machines.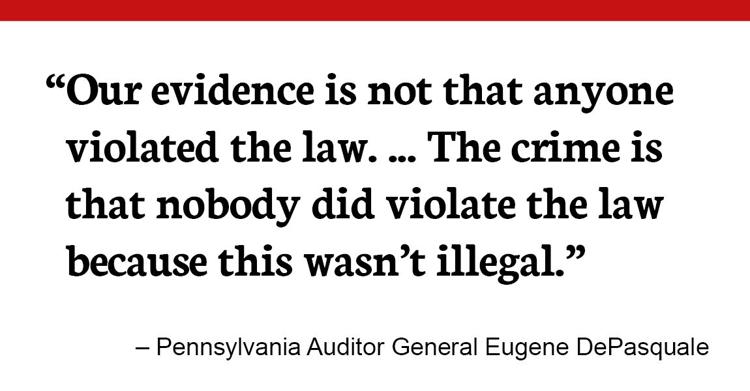 DePasquale argued that by accepting any benefit whatsoever from these companies, local officials were creating the appearance of impropriety even if they ultimately didn't let it sway their decisions. He pointed to a rule that Gov. Tom Wolf established for his administration that bans the acceptance of any gift of any value whatsoever.
"I know sometimes a lot of people in Pennsylvania government complain about Gov. Wolf's rules," DePasquale said. "But you know who doesn't complain about it? The nearly 13 million Pennsylvanians that we represent. Because they want their government officials to act with the most integrity that is humanly possible."
DePasquale said that some of the gifts that were accepted appeared to run afoul of the state's ethics rules and that his office would be referring some of the findings to the State Ethics Commission.
"We have evidence that some did not report," he said. "Now again, that could be because we didn't get the full information, and they may have supplemental [data] that shows that they did. That's fine. That's why I'm not here to make an accusation."
The auditor general did single out three counties, two for praise and one for derision. He lauded Mifflin County for the breadth and depth of their disclosure documents, arguing that if such a small jurisdiction could so thoroughly comply with his request that there was no excuse for those that dragged their feet. And he contrasted Philadelphia with neighboring Montgomery County for their process of selecting voting machine vendors.
"In Philadelphia, where a voting machine vendor was chosen this week, the cost of that contract could be as high as $50 million," DePasquale said. "And I still have concerns about how that process and decision was handled. It appeared to be tailored to the vendor that was ultimately chosen and something that I specifically predicted a week before that decision was made."
By contrast, he said, Montgomery County took pains to follow the directives of the state's Blue Ribbon Commission that issued suggested guidelines for properly awarding such a contract.
DePasquale said he would be contacting both Republican and Democratic lawmakers to suggest legislation that would extend the Wolf administration's ban on all gifts to county elections officials.
"It doesn't matter if the gifts are large or small," he said. "My problem is that anyone who accepted them, period, could have been swayed by some of those perks. And I also want to be clear about this – our evidence is not that anyone violated the law. In fact, I think the crime is that nobody did violate the law because this wasn't illegal."