The appetite for criminal justice reform in Harrisburg isn't showing any signs of abating anytime soon.
In the wake of Pennsylvania's widely lauded Clean State Act going into effect – the legislation makes it easier for nonviolent former offenders to clear their criminal history – Senators Anthony Williams, D-Philadelphia, and Camera Bartolotta, R-Canonsburg, have a new proposal for their colleagues to consider.
Senate Bill 14 would substantially reform the way probation and parole violations are handled in the state, with an emphasis on preventing cases where new penalties from a technical violation can cause someone to spend more time incarcerated than their original sentence called for.
At a news conference to discuss SB14, Bartolotta said Pennsylvania was one of a shrinking number of states that haven't yet addressed the issue.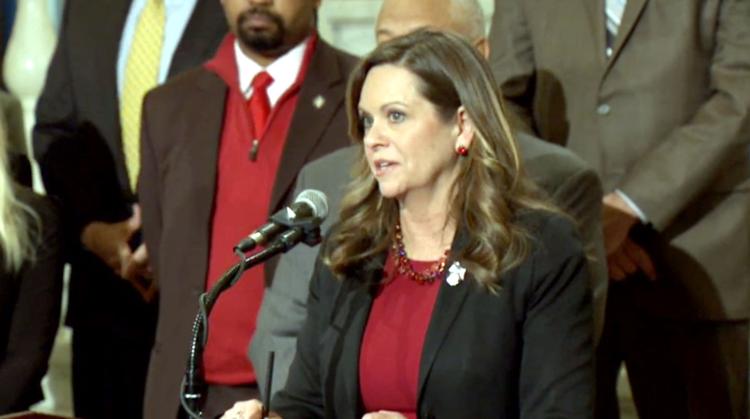 "Thirty other states have already responsibly put a cap on probation sentences to ensure minor probation violations do not result in new sentences not matching the crime," she said. "This legislation will bring Pennsylvania in line with these other states. An individual who receives a traffic violation should not receive a prison sentence just because that violation occurred while they were on probation."
Williams criticized the current system, saying that parolees and probationers could find themselves having violated the terms of their release for such a mystifying array of reasons that fairness was impossible.
"If you walk into a court today, and a judge doesn't agree with [how] you dressed, said or conducted yourself, they can find that to be a technical violation because you are now disrespecting the court," he said. "So the arbitrary nature in which this is applied should be obvious to anybody, regardless of where you live in Pennsylvania."
Stephen Bloom, a vice president with the nonprofit Commonwealth Foundation and former state representative, said overly draconian probation and parole standards tend to increase the recidivism rate rather than reducing it.
"In 2015, nearly 74,000 people were on probation in Pennsylvania, and probation violators made up 17 percent of our state's prison population, many simply because they got tangled up in administrative red tape," he said. "Pennsylvania spends about $200 million dollars a year on incarcerating and re-incarcerating people revoked from probation."
Bloom pointed out that one of the provisions of SB14 would allow those who maintain good standing while on probation would be eligible to have the probationary period reduced, another aspect that would tend to decrease recidivism.
"Most recidivism occurs within the first year of probation," he said. "Reducing probation lengths and allowing for early ending of probation for good behavior would help reduce the chance of technical violations and thereby reduce recidivism and reduce our overall prison population while still protecting public safety."
Bloom pushed lawmakers to go even further by enacting a package of criminal justice reforms known as JRI2, short for "Justice Reinvestment Initiative II," the followup to another group of comprehensive reforms passed six years ago.