While the landmark Janus v. AFSCME decision had many clear implications for how public employee unions are able to operate going forward, there's still room for states to grapple with exactly how they comply with the U.S. Supreme Court.
To make sure that Pennsylvania is fully compliant and that all workers understand their rights under Janus, state Rep. Kate Klunk, R-Hanover, introduced House Bill 2571, which has a variety of informational and housecleaning aspects.
The House Labor & Industry Committee, of which Klunk is a member, held an informational hearing on the legislation Wednesday to work through how it would impact unions and workers who choose not to be part of a union.
The Janus ruling was largely concerned with the longtime practice of requiring public sector employees who didn't want to join a union to still pay so-called "fair share" fees to the union. Unions maintained that non-union workers still benefited from collective bargaining efforts, and so they should contribute to the cost of supporting the union.
The Supreme Court ruled in a 5-4 decision in June that requiring fair share fees to go to entities that engage in political lobbying and campaigning amounted to forced speech, violating workers' First Amendment rights. Given that unions are most commonly aligned with Democratic candidates, the ruling was seen as a victory for Republicans nationwide.
Klunk's bill would require employers to notify workers every pay period of their rights not to take part in funding the union and that being in the union is not a requirement of employment. It would forbid the use of payroll deductions for any voluntary contribution by non-union members, and it would repeal the existing state laws that allowed for fair share fees in the first place.
"Unions spend big money on political activity, and these fair share employees contribute quite a bit to this activity," she told the committee. "And now political activity isn't just campaigns. Janus did hold that it's union activity, including wage, pension benefit, anything that is part of those contract negotiations. $114 million has been spent by public sector unions on politics over the last 10 years."
From Klunk's perspective, the political repercussions of union influence has had a corrosive effect on good governance in the state.
"These are the very unions who opposed reforms of our woefully underfunded pension system," she said. "These are the very same unions who have worked to block popular changes to our state-owned liquor stores. And these are the very same unions who have stood in the way of job-promoting regulatory changes, often over the objection of government workers themselves."
According to Klunk, 28,000 Pennsylvania workers were subject to fair share fees at a cost of $9.7 million a year.
The committee heard from Beth Anne Mumford, the state director of Americans For Prosperity Pennsylvania, a taxpayer and good governance advocacy group. Mumford told the committee that the Janus decision has the potential to be an economic boon to the state, and that "right-to-work" policies in other states have sparked significant growth.
"According to the Wisconsin Policy Research Institute, the presence of right to work added an average of about six percentage points to the state's annual growth rate between 1983 to 2013," she said. "Specifically between 1970 and 2013, the 22 states with right-to-work laws experienced income growth rates nearly twice as large as non right-to-work jurisdictions. In other words, those 22 states produce 28.75 percent of America's personal income in 1970, but over 8 percentage points more, 37.32 percent in 2013."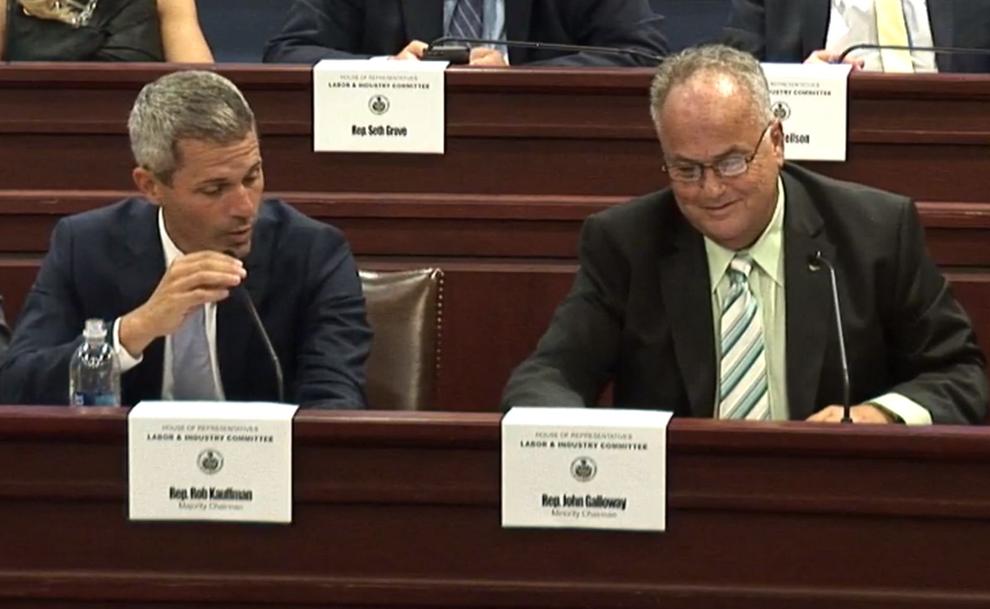 The committee's minority chairman, Rep. John Galloway, D-Levittown, grilled Keith Williams, the director of outreach for Americans For Fair Treatment, an organization devoted to advocating for public sector workers. Galloway wanted to know why Williams' group was supporting a bill that would provide information about declining union membership but that doesn't say anything about the potential advantages of joining a union.
"You just want to notify the employees of this particular right," Galloway said. "You don't want to educate them on all their rights, right? You don't want to educate them on the right that they have a right to actually join the union, and the benefits of that union."
Williams said that wasn't true.
"Our focus is to educate people about their rights, their rights to join the union, their rights to not join," Williams replied.
Galloway seemed unsatisfied with that response, asking the question different ways several times until finally Chairman Rob Kauffman interceded, suggesting that Galloway was "off in the weeds."
"Would you like to ask a question or badger the witness?" Kauffman protested. "Just ask a question. At some point, we have to get to the end of your rantings."
After Steve Catanese, president of SEIU Local 668, suggested that the requirement for notification of Janus rights at every pay period amounted to harassment, he drew a sharp rebuke from Rep. Fred Keller, R-Mifflinburg, who countered that non-union workers were already subject to inappropriate behavior from those trying to recruit for unions.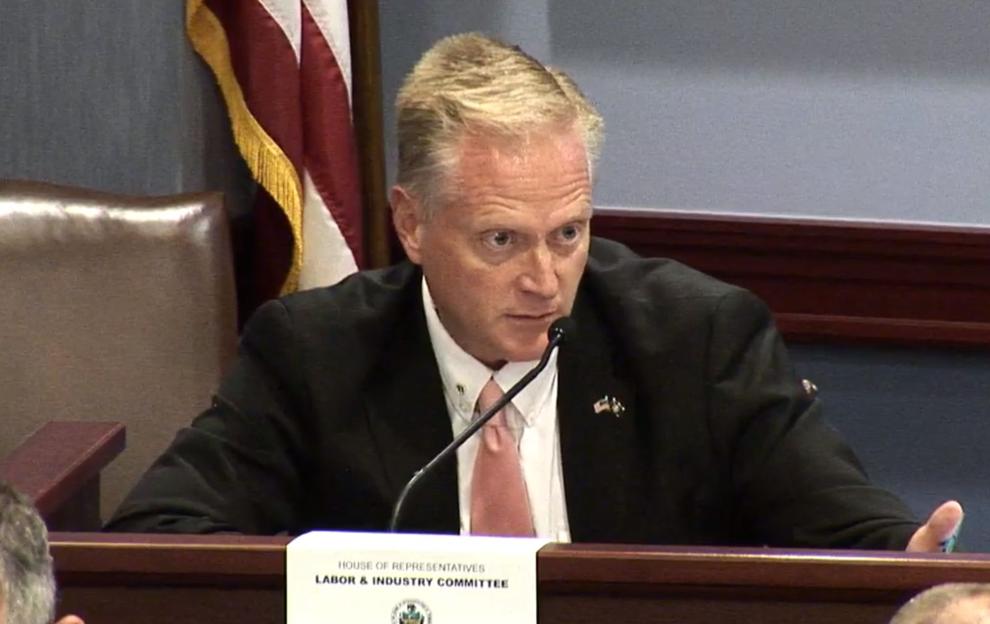 "I know of a person [in] an AFSCME collective bargaining unit, one employee over three weeks was visited six times, with a paper put under her nose, saying, you need to sign this," Keller said. "The last time two people [confronted her]. … People were coerced into signing this, 'you're the only one that didn't sign it, you're the only one that didn't sign it.' So I guess I just want the committee to know that, well, this all sounds like an attack on organized labor. It's not. It's just simply letting everybody know what their rights are, because they are continually getting bombarded from the other side."
Rep. Pam Snyder, D-Carmichaels, suggested that unions and public sector union employees were being unfairly demonized by the tenor of the discussion.
"I can tell you firsthand that the public school teachers that I know, and I have eight school districts in my district, not only are they dedicated, committed, knowing the budget constraints that we have in the state of Pennsylvania, they spend a lot of money out of their pockets to make sure that their students have what they need," she said. "I see it every day. My daughter is a kindergarten teacher, and I know the commitment she has."
As is customary for meetings devoted to gathering expert comment and input, the committee took no action on Klunk's bill.