An attempt to impersonate New Hampshire state Sen. Chuck Morse on Twitter was shut down by the platform Tuesday afternoon, sometime after the false account had sent suspicious messages to at least one news media outlet.
The office of Morse, a Republican from Salem, confirmed Tuesday that the account was a fake, shortly before Twitter took action to remove it.
"We are aware of the fraudulent account and are working to have it taken care of," said Cameron Lapine, a legislative aide in Morse's office, via email. "It is not a genuine account."
Created with a Twitter handle of @ChuckSenator, the account had no published Tweets before it was taken down Tuesday afternoon. Its Twitter biography claimed that it was the "Official Campaign Account for New Hampshire Senate President Morse," and it had collected 47 followers during its brief time online, including a number of state lawmakers.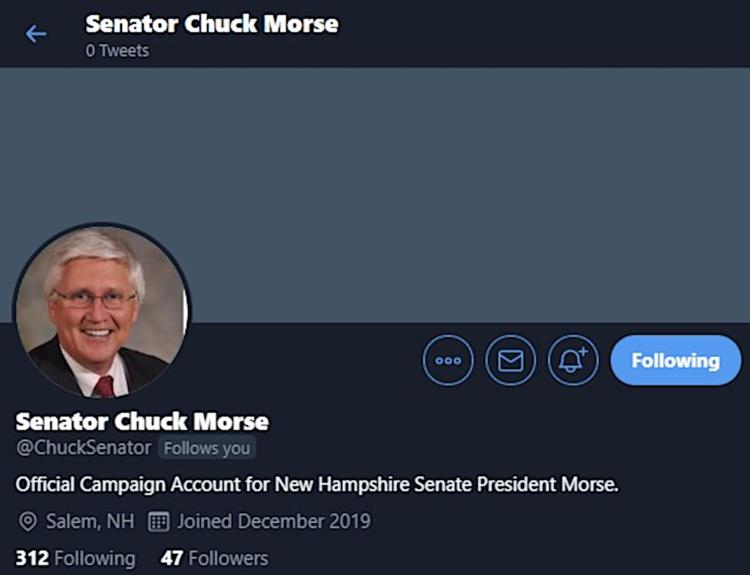 Morse was Senate president from 2013 until 2018, after which the Democratic Party assumed majority control of the chamber and he became Senate minority leader. The fake account appeared to have taken its photo and description from a real account, @Morse4Senate, that has been dormant since November 2016.
The false Twitter account contacted a Center Square journalist early Tuesday morning with an apparently innocuous message: "How are you doing?"
After getting a short greeting in return, the impersonator continued, "busy online searching on what to invest my grant prize on, Are you also aware about the Federal Government Grant yet?"
Upon receiving a request for clarification, the impersonator replied with a lengthy passage.
"It's a new program from the Federal Government Grant to encourage the empowerment of human right and poverty reduction," the impersonator wrote. "They help and support people who are interested in receiving funds for their business and personal use, I got the sum of $500,000 from them......Have you been contacted also ?"
It was at this point that The Center Square contacted Morse's office and received confirmation that the Twitter account was not genuine. Further messages to the impersonator from The Center Square received no response, and by about 1:45 p.m., the account was offline.
When contacted by The Center Square about the incident, a Twitter representative directed a reporter to the platform's policy on impersonation.
The false account had managed to connect with a number of lawmakers on Twitter. Tuesday afternoon, shortly before it was shut down, it was being followed by accounts belonging to state Reps. Tom Loughman, D-Rockingham, Gates Lucas, R-Sullivan, Jason Osborne, R-Rockingham, Katherine Prudhomme-O'Brien, R-Rockingham, and Katherine Rogers, D-Merrimack, along with several former lawmakers and New Hampshire-based media professionals, giving the fake account a veneer of legitimacy.
Carl Keyser, digital marketing manager for Security7 Networks, a cybersecurity firm based in New Hampshire and Massachusetts, described the messages from the Twitter account as an attempt at a "social engineering attack."
According to Keyser, as companies and governments have become more vigilant about outside entities penetrating their systems via computer hacking and other technological means, the ability to trick humans into giving out sensitive information has become increasingly popular.
"A lot of the things that we see will be decisions that are made in the boardroom, from a reactive position where they've heard about malware or different types of attacks on the news," Keyser said in a phone interview. "And they'll say, 'Well, OK, then our biggest priority is to stop these types of attacks,' … when in reality, the first thing that they should probably be doing is security awareness training."
Keyser suggested that, given the impostor's success at getting lawmakers and journalists to connect with the fake Twitter account, it's possible that a New Hampshire lawmaker has already been compromised by a similar attack. He noted that prominent individuals are frequently appealing targets of social engineering attacks, and that his own status as a public face of a cybersecurity firm makes him a target at times.
"These impersonations are incredibly common, though in my experience this is the first time I've seen a politician directly impersonated," Keyser said in a follow-up email. "As to why he was so successful in impersonating Morse, it goes back to the human element and humans being so fallible. We just DON'T pay much attention to things. Social media has programmed us to follow and like blindly."