(The Center Square) — Despite shrinking enrollment, Mississippi lawmakers are likely to give public schools a nearly 10% spending increase. 
New state Superintendent Robert Taylor made his debut before lawmakers Wednesday as the state Department of Education briefed Senate appropriators on its funding request for this year.
"From afar, I've watched the tremendous work that Mississippi has done and we want to continue that work," Taylor told the committee.
The Laurel native was hired from North Carolina, where he was Deputy State Superintendent for the North Carolina Department of Public Instruction. Tuesday was his first day on the job.
The Mississippi Adequate Education Program funding formula is how the state Department of Education calculates its budget request. The MAEP formula calculation, which determines how much each public school district will receive in state funds, is $2.9 billion. That is a $305 million increase from last year's MAEP funding request.
The formula has an inflationary adjustment equal to 40% of the base student cost for the previous fiscal year multiplied by the latest annual rate of inflation as determined by the state economist.
The Joint Legislative Budget Committee's funding recommendation for K-12 education is $2.6 billion, a difference of $326 million from the MAEP calculation. Appropriation from the state's general fund would be nearly $2.4 billion.
The Legislature's funding recommendation would still be a 9.77% increase of $258 million over fiscal 2023's outlay of $2.382 billion.
Kim Benton, the interim academic officer and interim superintendent before Taylor's hire, told the committee that MDE's administration ran a "lean operation" at the central office.
"The funds we are requesting are in direct support of the students and educators in the state of Mississippi," Benton said.
That's not the only spending for K-12 in Mississippi. The MDE also appropriates general education funds, most of which are provided by federal grants. The agency has requested $2.1 billion and the legislative recommendation is $2 billion. Most of those funds, just more than $1.8 billion, are federal.
All of that funding is chasing fewer students. In the 2013-14 school year, there were 492,000 students enrolled in Mississippi public schools. This year, enrollment is down to 440,033, a drop of 10.5%.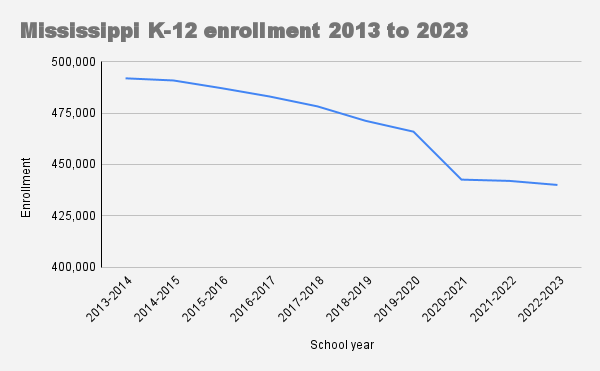 The MAEP formula has only been funded twice and likely won't be fully funded again now that legal arguments over the formula have been conclusively settled by the state Supreme Court in 2017.
The court ruled unanimously that the Legislature wasn't required to comply with the formula's calculation and could set its own appropriation independent of the formula.
The MAEP formula consists of average daily attendance times base student cost, plus at-risk component minus local contribution plus 8% guarantee. Then, only after add-on programs – transportation, special education, gifted education, vocational and alternative education – are added to the formula allocation is the final MAEP funding request calculated.