(The Center Square) – Gov. Gretchen Whitmer and Secretary of State Jocelyn Benson called on Michiganders to vote in the Nov. 3 general election.
"It's crucial that all Michiganders know how to safely exercise their right to vote and make a plan ahead of the November election. Right now, Michigan citizens can register to vote and request an absentee ballot online at Michigan.gov/Vote," Whitmer said in a statement.
"They also have a number of options to vote safely and securely, including from home, early at their clerk's office, and in person at the polls, and I encourage them to make their voting plan now."
Whitmer encouraged those who choose to vote from home to mail their ballots back as soon as possible or deliver to a local election ballot dropbox.
"Already we've had three successful elections this year which saw record turnout, record numbers of citizens voting by mail, and little to no crowding on Election Day. We are on track to replicate this success in November," Benson said. "Our clerks are doing their part, working tirelessly as they have all year to juggle unprecedented challenges while embracing record turnout."
Both officials encouraged the House to pass Senate Bill 757, which the Senate passed Tuesday, and seeks to allow clerks to begin processing absentee ballots earlier than Nov. 3.
State officials mentioned the comments in a Wednesday news conference focused on voting information.
More than 2.3 million requested absentee ballots, shattering the previous record of 1.6 million.
Benson estimated about 5 million Michigan residents will vote in this election.
Whitmer said COVID-19 numbers across the state are concerning, but Michigan's state of emergency may not last much longer – "probably a matter of months."
She was unclear what circumstances she anticipates will change by then.
Chief Medical Executive Dr. Joneigh Khaldun said COVID-19 deaths continue to hold steady at an average of about 10 deaths per day, down from the peak of about 1,400 in April.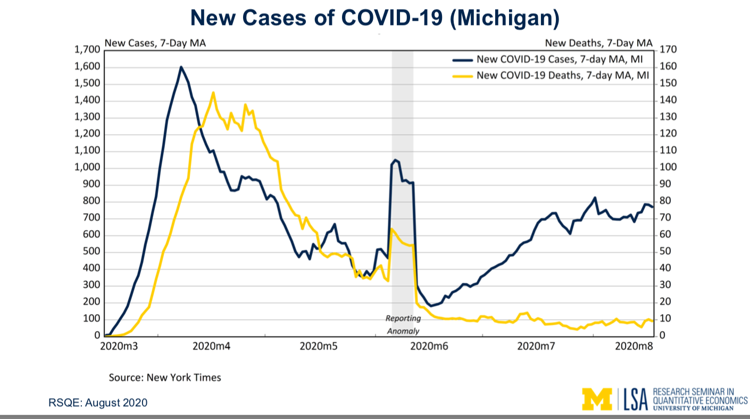 She encourages both campaigns to follow federal guidelines and to wear masks.
Whitmer also dodged a question about whether she'd be willing to release internal emails about her controversial nursing home policy.
Rep. Matt Hall, R-Marshall, who chairs the COVID-19 Pandemic Committee, accused Michigan Department of Health and Human Services Director Robert Gordon of "stonewalling" lawmakers about those emails this morning, which Hall said were requested months ago.
Republicans have opposed Whitmer's policy of placing COVID-19 patients in nursing homes.
A nursing home task force recommended exploring the option of providing isolated facilities for infected patients – a similar policy provided in a bill that Whitmer vetoed in July. 
The U.S. Department of Justice (DOJ) has asked similar questions about those policies. 
State officials contend they acted with the best information they had at the time.