(The Center Square) – Seventeen months after the start of the COVID-19 pandemic, about one out of four working-age Detroiters are still unemployed, according to data released Monday from a University of Michigan survey.
Detroit's unemployment rate – the proportion of working-age adults in the labor force but not currently employed – has held steady around 25% since fall 2020.
While the current unemployment rate is more than twice pre-pandemic rate (11%), it had fallen considerably from nearly 48% in June 2020.
The data was obtained from the representative survey of Detroit households conducted by U-M's Detroit Metro Area Communities Study (DMACS).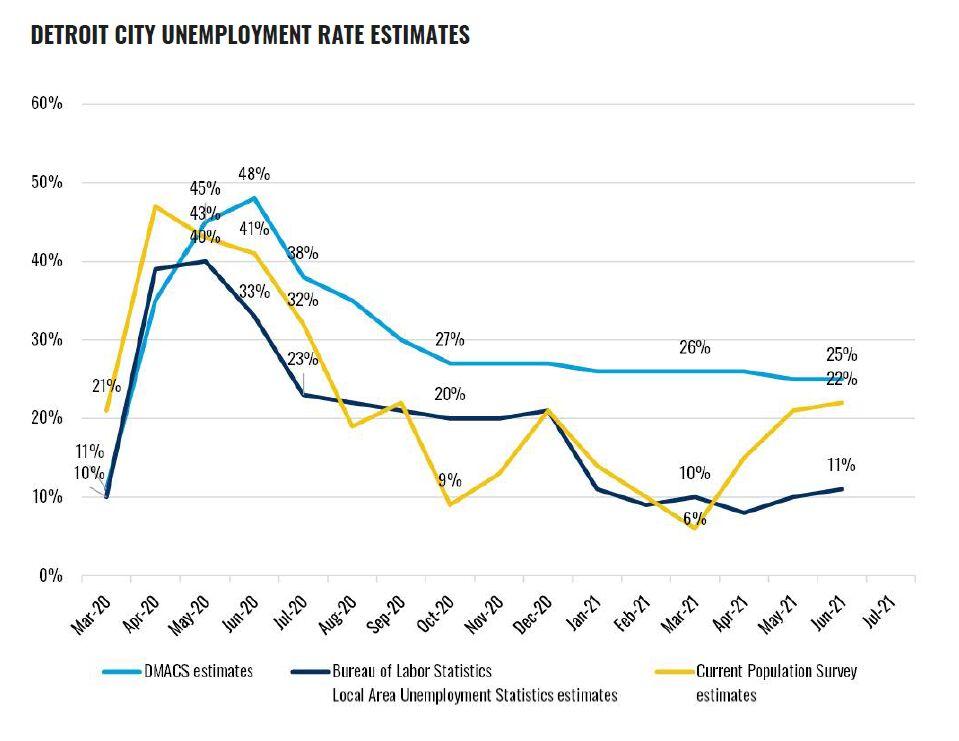 Among those currently unemployed, 20% are recently unemployed (jobless for five months or less), while 33% have been out of work for six to 11 months. Nearly half (47%) of unemployed Detroiters report being jobless for longer than a year.
Black and Latino Detroiters, low-wage earners, residents without college degrees, and adults in households with kids were more likely to be unemployed than other Detroiters.
Lower-income Detroiters have been hit the hardest, with 46% of unemployed residents earning less than $30,000 annually compared to 6% unemployed of those with household incomes of $60,000 or more.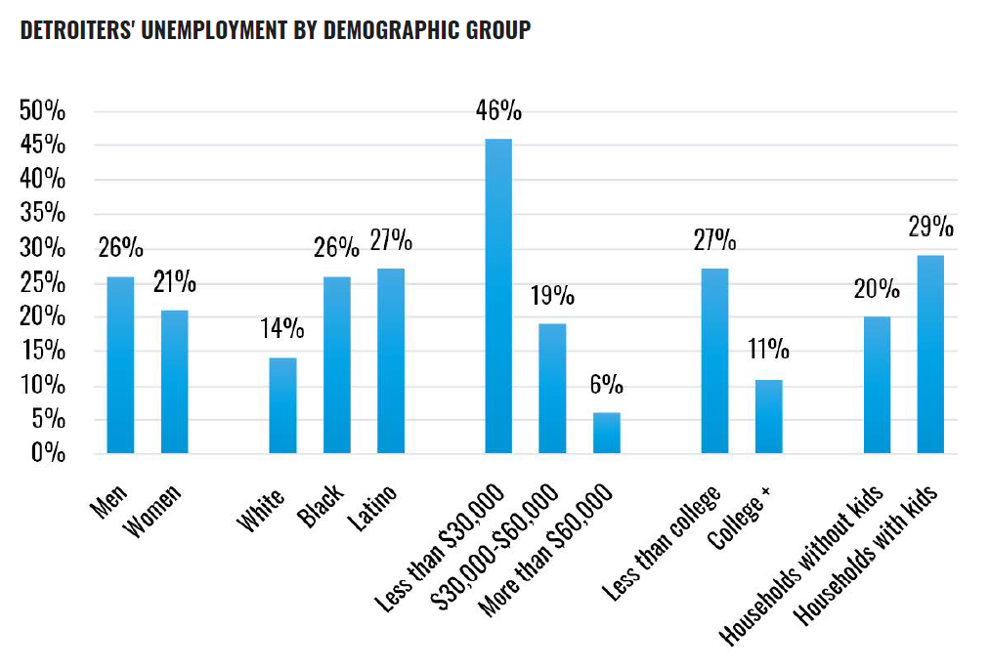 Most unemployed Detroiters blame their work status on the COVID-19 pandemic. While respondents could cite multiple explanations, 49% say their workplace closed, and 50% say they were laid off due to the pandemic.
Additionally, 10% of unemployed Detroit residents say being sick with COVID-19 or caring for someone with COVID-19 contributed to their unemployment. About 26% of unemployed Detroit residents said they had to stop working due to family and personal obligations related to the pandemic.
About 40% of unemployed women report not working partly due to family obligations, compared to only 12% of unemployed men.
"Unemployment remains a significant problem among Detroit households, and like so many issues, it does not fall evenly across Detroiters. We see ongoing evidence of the pandemic as an economic crisis as well as a public health crisis," Elisabeth Gerber, DMACS faculty lead and professor of public policy professor in the Center for Political Studies at the Institute for Social Research, said in a statement.
DMACS survey estimate 42% of adults in Detroit are out of the labor force, up from 37% in March 2021 and 38% in October 2020.
DMACS has been surveying representative samples of Detroiters since 2016. This latest survey was open June 2-July 9, 2021, and captures the views of 1,898 residents. Survey responses are weighted to match Detroit's population demographics.