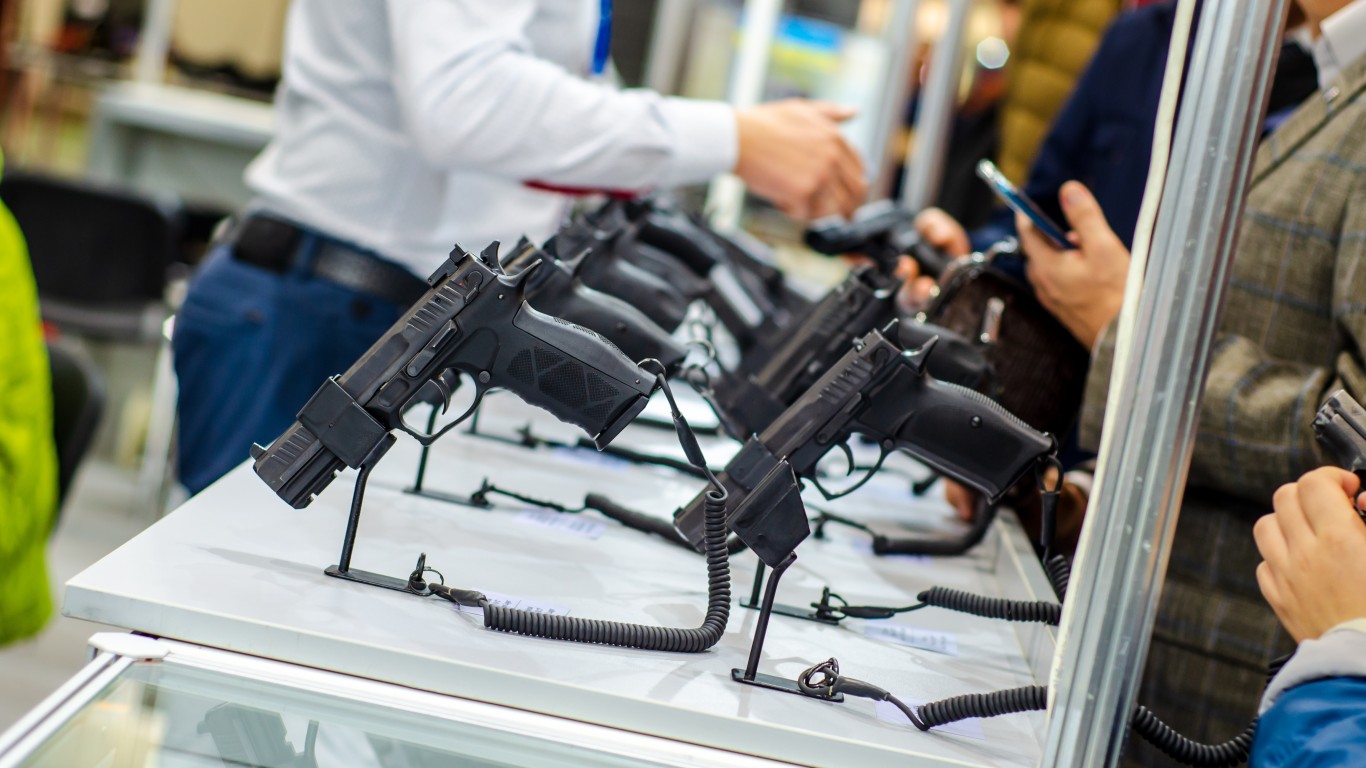 America's gun industry is booming. Over 11.3 million firearms were manufactured in the United States in 2020, more than double the 5.6 million produced in 2010, and nearly triple the 3.9 million guns manufactured in 2000, according to the Bureau of Alcohol, Tobacco, Firearms, and Explosives. Surging demand for firearms has been a boon not only for the balance sheets of American gun makers, but also government coffers.
Between sporting arms and ammunition companies and supporting sectors, the American firearm industry generated $70.5 billion in economic output in 2021, according to the advocacy group The Firearm Industry Trade Association. The federal government also levied $4.6 billion in business taxes from the gun industry in 2021, up 84% from a decade earlier. The firearm industry in some states accounts for a far larger share of government firearm tax revenue than others.
The federal government collected $123.6 million in business tax revenue from the firearm industry in Michigan in 2021. Adjusting for population, this comes out to about $12 per state resident, the 25th highest among the 50 states.
Overall, Michigan's firearm and ammunition industry, including supporting sectors, employed 11,759 people in 2021. The industry generated $1.9 billion in total economic output, or $187 per capita, the 24th lowest per capita figure among states.
All data in this report is from the 2022 Firearm and Ammunition Industry Economic Impact Report from The Firearm Industry Trade Association.
| Rank | State | Per capita fed. business tax revenue from gun industry, 2021 ($) | Gun industry economic output per capita, 2021 ($) | Total gun industry jobs, 2021 |
| --- | --- | --- | --- | --- |
| 1 | New Hampshire | 146.37 | 1,960 | 9,950 |
| 2 | Wyoming | 67.36 | 1,190 | 3,672 |
| 3 | Idaho | 52.83 | 887 | 6,999 |
| 4 | Arkansas | 42.00 | 835 | 10,426 |
| 5 | Minnesota | 36.97 | 488 | 11,680 |
| 6 | Oregon | 31.68 | 420 | 8,952 |
| 7 | Connecticut | 29.96 | 400 | 5,264 |
| 8 | Utah | 27.67 | 398 | 8,893 |
| 9 | Massachusetts | 27.58 | 407 | 10,151 |
| 10 | Arizona | 24.77 | 320 | 11,933 |
| 11 | South Dakota | 23.22 | 416 | 1,842 |
| 12 | Maine | 21.53 | 305 | 3,523 |
| 13 | Nebraska | 19.47 | 338 | 3,325 |
| 14 | Montana | 18.90 | 332 | 2,454 |
| 15 | Mississippi | 17.22 | 315 | 4,737 |
| 16 | North Carolina | 15.20 | 238 | 13,017 |
| 17 | Vermont | 15.02 | 224 | 828 |
| 18 | Pennsylvania | 14.93 | 206 | 18,891 |
| 19 | Illinois | 14.51 | 226 | 13,051 |
| 20 | Washington | 14.44 | 180 | 8,166 |
| 21 | South Carolina | 13.63 | 238 | 6,789 |
| 22 | Colorado | 13.33 | 175 | 6,712 |
| 23 | Missouri | 12.97 | 203 | 7,899 |
| 24 | Ohio | 12.49 | 201 | 15,256 |
| 25 | Michigan | 12.29 | 187 | 11,759 |
| 26 | Florida | 11.92 | 159 | 22,332 |
| 27 | Nevada | 11.85 | 165 | 3,201 |
| 28 | Wisconsin | 11.51 | 210 | 6,661 |
| 29 | Texas | 11.20 | 189 | 31,632 |
| 30 | Tennessee | 10.57 | 161 | 7,097 |
| 31 | Kentucky | 10.48 | 189 | 5,101 |
| 32 | Maryland | 10.13 | 144 | 4,286 |
| 33 | California | 9.70 | 133 | 29,082 |
| 34 | Virginia | 9.47 | 150 | 7,424 |
| 35 | Georgia | 9.20 | 165 | 9,045 |
| 36 | New Jersey | 8.32 | 114 | 5,174 |
| 37 | Alaska | 8.30 | 165 | 1,029 |
| 38 | Alabama | 8.25 | 147 | 5,247 |
| 39 | Rhode Island | 8.22 | 166 | 826 |
| 40 | New York | 7.85 | 128 | 10,150 |
| 41 | Iowa | 6.98 | 151 | 2,779 |
| 42 | Louisiana | 6.20 | 134 | 3,615 |
| 43 | West Virginia | 6.18 | 123 | 1,702 |
| 44 | North Dakota | 5.76 | 103 | 652 |
| 45 | Indiana | 5.55 | 138 | 5,021 |
| 46 | Oklahoma | 5.14 | 104 | 2,702 |
| 47 | Kansas | 4.35 | 198 | 2,133 |
| 48 | New Mexico | 4.11 | 77 | 1,442 |
| 49 | Hawaii | 3.49 | 51 | 578 |
| 50 | Delaware | 2.86 | 73 | 503 |