(The Center Square) – Statewide assessment results for 2021 show declines in the number of students meeting or exceeding grade-level standards compared to 2019 after a year of virtual learning and disruptions from COVID-19.
The percentage of proficient students dropped in nearly every category, according to M-STEP test results released Tuesday morning.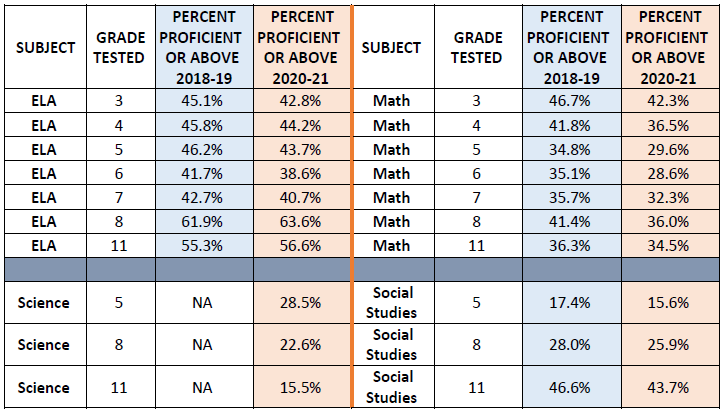 Only 28.6% of students tested proficient or above in sixth-grade math, down from 35.1% in 2019. In third-grade math, 42.3% of students tested proficient, compared to 46.7% in 2019.
About 42.8% of third-graders passed the English language arts test, down from 45.1% in 2019.
In eighth-grade reading, 63.6% of students tested proficient, up from 61.9% in 2019, while 11th-grade reading climbed from 55.3% in 2019 to 56.6% in 2020.
In 11th-grade math, proficiency dropped from 36.3% in 2019 to 34.5%, while eighth-grade math proficiency rates dropped from 41.4% in 2019 to 36%.
Only 15.6% of students tested proficient in fifth-grade social studies, down from 17.4% in 2019.
About 3,661 third-graders across the state were flagged for retention because of low reading scores. Only 71.2% of third-grade students took the state reading assessment this year, and 4.8% were eligible for retention.
Great Lakes Education Project (GLEP) Executive Director Beth DeShone criticized the low scores, blaming them on shuttered schools.
"Governor Whitmer ignored the science, the pediatricians, and the experts, locking students out of their classrooms for months at a time, and today's test results prove she made a disastrous call," DeShone said in a statement. "Taxpayers spent an extra $6 billion for schools last year during the pandemic, but Governor Whitmer and the public school bureaucracy left the students behind."
State Superintendent Dr. Michael Rice acknowledged in a statement issued Tuesday that cessation of in-person learning during the pandemic led to the declines in M-STEP scores.
"Results from the state summative assessments and the local benchmark assessments show that some students were able to make relatively normal gains, while many others will be working with their teachers to accelerate their learning to catch up to where they otherwise would have been in the absence of the pandemic," he said. "In Michigan and across the country, we have our work cut out for us."
Rice noted students didn't take the M-STEP in 2020, and the percentages of students who took the ELA and math M-STEP tests this year ranged by grade and subject from 64% to 72%.
"The 2020-21 school year was such an uneven year with high health risks for students and staff, inconsistent technology, and variations in teaching and learning across the state," Rice said. "Any analysis of M-STEP results must factor in low participation rates in state testing."
State Board of Education President Dr. Casandra Ulbrich, the Michigan Education Association, and Rice requested the U.S. Department of Education waive the statewide M-STEP assessments for the second straight year. Still, it denied the request to waive summative assessments, so the M-STEP was required to be administered by local school districts but was optional for students.
Students who took the state assessments were more likely to be from districts offering in-person or hybrid learning and less likely to be students of color, economically disadvantaged, or English learners.
The Michigan Department of Education said groups of students who are historically lower-achieving didn't test in the same percentages of historically higher achieving students.
"Educators know what we need to do and have already begun to do it, with longer summer school programs, accelerated learning, with greater creativity, for more children, and with earlier school year starts," Rice said. "Across the country, it will require intense focus to address the gaps so apparent pre-pandemic and, in some cases and places, more so after 18 months of the pandemic."