(The Center Square) – Twenty-two months into the COVID-19 pandemic, some schools and colleges say they will shift to virtual learning amid an increase in COVID-19 cases, which will affect more than 100,000 students.
Detroit Free Press reporter Sally Tato tweeted a list of schools with delayed schedules or shifting to virtual learning briefly (estimated student population added):
Ann Arbor Schools (18,000)
Lansing schools (10,000)
Detroit Public Schools (50,000)
Pontiac schools (4,000)
Southfield schools (1,400)
Oak Park schools (4,400)
Flint schools (3,750)
Hamtramck schools (1,000)
River Rouge schools (2,400)
Some colleges are delaying schedules or switching to virtual learning as well, including Michigan State, Eastern Michigan, Wayne State, and Oakland University.
Michigan State will start classes on Jan. 10 remotely for "at least" three weeks, MSU President Samuel L. Stanley wrote in an email to students.
"Given this intense surge in cases, we now feel the best decision for our campus is to start classes primarily remotely on Jan. 10 and for at least the first three weeks of the semester," Stanley wrote. "For those who were planning to move back to our residence halls next week, they will still be open and available."
​​The wave of closure reacts to an increased caseload of COVID-19, possibly driven by the omicron variant of COVID-19.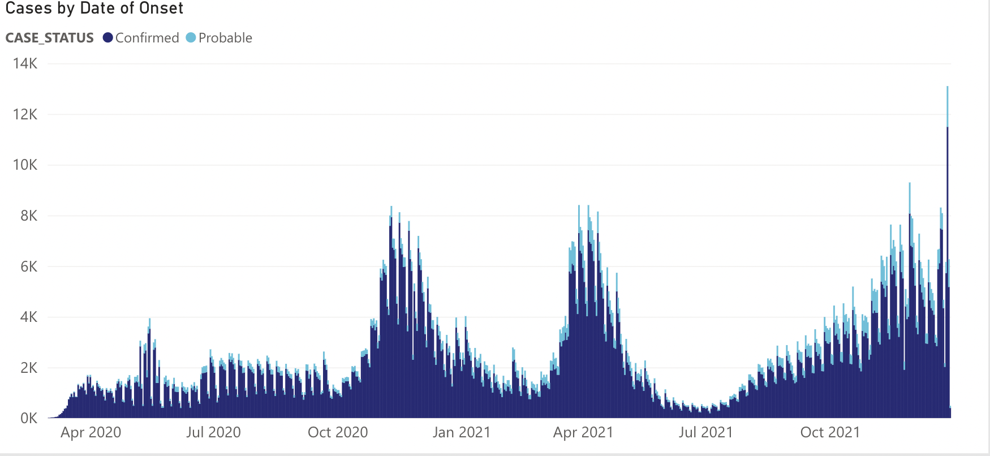 The K-12 schools mostly say they plan to return to in-person learning within a week. Still, that prompts memories of Michigan leaders' broken promises since 2020 that they would shut down economic activity for "15 days to slow the spread," which subsequently stretched into year-long restrictions.
Moreover, 2021 statewide assessments of virtual learning showed declines in the number of students meeting or exceeding grade-level standards compared to 2019 after a year of virtual education and disruptions from COVID-19.
The percentage of proficient students dropped in nearly every category.
The school delays and switch to virtual learning are struggles for parents trying to return to the workforce, employers trying to fill jobs that otherwise leave restaurants closed, and flights delayed at Detroit Metro Airport.
The Michigan Department of Health and Human Services (MDHHS) is updating its general public quarantine guidance to reflect Centers for Disease Control and Prevention (CDC) recommendations.
The CDC recommendations reduced quarantine to five days plus five more days of masking around others for the asymptomatic or those with resolving symptoms. Still, MDHHS said it hasn't changed the current guidance recommendations for congregate settings, early childcare, or K-12 settings.
"We have safe and effective tools for preventing the spread of COVID-19," Chief Medical Executive Dr. Natasha Bagdasarian said in a statement. "Getting vaccinated continues to be the best protection against severe illness and hospitalization, and we urge all Michiganders over age 5 to get vaccinated as soon as possible. These most recent updates to the quarantine and isolation guidelines are a reflection on our progress as we learn more about COVID – but we are not in the clear as variants like omicron continue to create new challenges in the fight to end this pandemic."