The Louisiana Public Service Commission on Wednesday voted to scale back what utilities must pay solar panel owners who produce more electricity than they use.
Supporters of the change argued current rules make the 99 percent of ratepayers who don't have solar panels subsidize those that do.
Opponents said the decision favors utility monopolies over consumers while limiting the growth of the state's solar industry.
People who already have solar panels, and those who install them before the end of this year, will operate under the current system for 15 years.
The Public Service Commission, despite its authority over the utility rates paid by most Louisiana residents, usually attracts little public attention. But on Wednesday, the PSC meeting was packed and frequently interrupted by cheers and applause.
Of the dozens of visitors who addressed the commission, only one supported the change. Many of the opponents were employees of PosiGen, a New Orleans-based solar energy and efficiency company, and wore matching green T-shirts asking commissioners to "save our solar jobs." PosiGen employs about 200 people in the state, a company official said.
Under the current "net metering" system, utilities effectively buy unused power produced by solar panel owners at the same retail rate, about 10 cents per kilowatt hour, as they sell electricity to other consumers. Solar users and advocates consider that a fair trade, though utilities would prefer to pay the wholesale rate of about 4 cents per kWh.
Speakers said the solar industry nationally is experiencing rapid job growth, yet Louisiana seemed to be moving to hold the sector back.
"We will lose all of our solar jobs," said Lisa Neyhart, a vice president with PosiGen.
Several people argued Louisiana should be promoting clean, renewable energy, especially given the state's history of subsidizing polluting industries.
"Louisiana is a dirty state," said Public Service Commissioner Foster Campbell, a north Louisiana Democrat. "This is a program that's clean."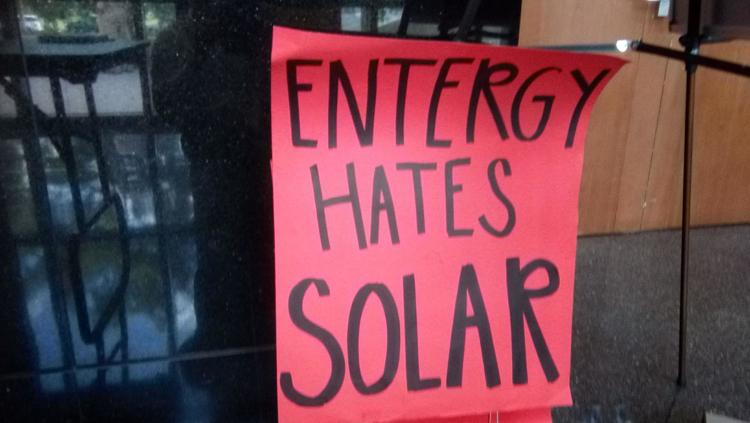 Campbell also said the program's value was miniscule – about $1 per ratepayer per year – compared to most issues before the PSC, suggesting the rules could be revisited if costs grow. Along with fellow Democratic Commissioner Lambert Boissiere, he argued utility opposition to net metering was more about the monopolies maintaining their control over electricity production.
But PSC staff testified that the roughly 6 cents above wholesale paid to solar owners constituted a subsidy from other consumers who are unable or unwilling to install solar panels on their own homes. Most Louisiana residents with solar systems took advantage of federal and state tax credits that are no longer available.
Public Service Commissioner Craig Green, a Republican, said the change strikes a "fair balance" between fairness to non-solar consumers and allowing solar owners to protect their investments. Solar panel owners still will get full retail value for the power they both produce and consume, Greene said.
"I'm very much pro-solar," said Mike Francis, the PSC's Republican chairman.
But the retail rate paid to companies like Entergy, the state's dominant electric utility, reflects the infrastructure and overhead costs borne by all ratepayers, Francis said. The lower wholesale rate reflects the true cost of the electricity itself, he argued, making it fair compensation for solar customers.
The PSC voted 3-2 along party lines to approve the change.