Louisiana voters go to the polls Saturday for a statewide election featuring the only Democratic governor in the deep South facing off against two prominent Republican contenders.
Gov. John Bel Edwards faces northeast Louisiana Congressman Ralph Abraham and Baton Rouge businessman Eddie Rispone, both Republicans. In Louisiana's "jungle primary" system, all candidates run against each other regardless of party. If no candidate wins a majority in the first round, the top two will compete again Nov. 16.
Polling indicates Edwards will get the most votes on Saturday. The Republican party hopes to keep him below the 50 percent threshold, while Abraham and Rispone angle for a spot in the runoff.
President Donald Trump plans to be in Lake Charles Friday night for a get-out-the-Republican-vote rally. Edwards visited the southwest Louisiana city earlier in the day for a campaign event of his own.
"I want to welcome him to Louisiana as always," Edwards said. "Obviously, I wish this visit was under different circumstances," he added with a wry smile.  
Edwards, an attorney by trade and a former U.S. Army Airborne Ranger, said he has met with Trump nine times to discuss issues such as infrastructure, the "opioid epidemic" and criminal justice. The governor has emphasized bipartisanship throughout his campaign in a conservative state that currently has no other Democrats in statewide elected office.
Edwards touted the region's industrial expansion along with other economic development projects around the state and continued to argue that Louisiana is in better fiscal shape than when he was elected. He said he was confident the president's visit and attacks from his opponents and the national Republican party would not have an impact on the race.
He noted that he defeated former Sen. David Vitter, a Republican who was the early favorite, in the 2015 runoff with 56 percent of the vote. He said he had no reason to think the results would be different if he again goes head-to-head with a Republican in November.
"If people will go out and vote tomorrow, there will not be a runoff," Edwards said. "We will win. If that doesn't happen, we're going to win on Nov. 16."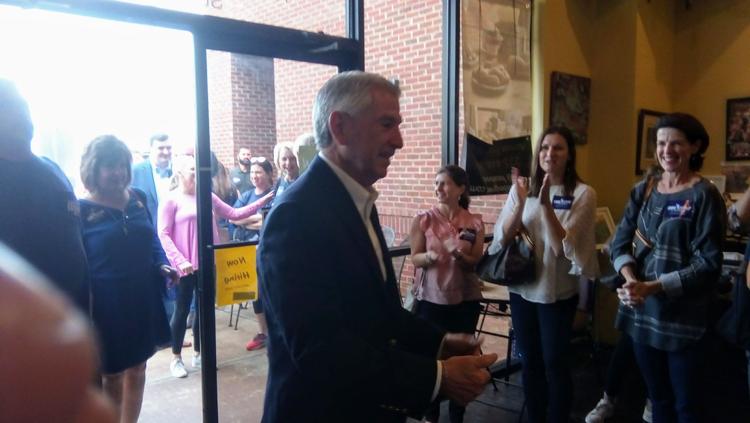 Rispone on Thursday entered a campaign stop at Rue Beignet in south Baton Rouge to chants of "Eddie! Eddie!"
"I want to hug every one of y'all," he exclaimed, urging his supporters to "be aggressive."
"Get on the phone," he said. "Get on the internet. Get on Facebook. Call your friends and your family and your neighbors."
He asked them to encourage the outdoors enthusiasts they know to go to the polls, saying it was more important to vote than "catch a few more snappers."
State Rep. Rick Edmonds, a Baton Rouge Republican, said he decided to support Rispone over Abraham because of the businessman's experience running a large industrial contractor.
"We need excellence in management," Edmonds said.
Fellow Republican state Rep. Tony Bacala of Prairieville praised Rispone's education activism over the past decade.
Both lawmakers declined to pass judgment on Rispone's campaign tactics of attacking Abraham, saying Republicans would come together for the runoff. Edmonds said the first-time candidate seems to have grown more comfortable in the role as the campaign has unfolded.
Asked if anything surprised him about running for office, Rispone paused, and offered that he was disappointed to find some Republican activists wanted to "control the candidate."
"We're running against John Bel Edwards," Rispone said. "I get attacked by both sides."
Most recent polls have shown Rispone slightly ahead of Abraham, a self-described "country doctor" and business owner, in the race for second place. But during a meet-and-greet Thursday with supporters at The Coffee House in Sorrento, Abraham said he's in a "very good spot" despite being "outspent 10 to one" by his opponents.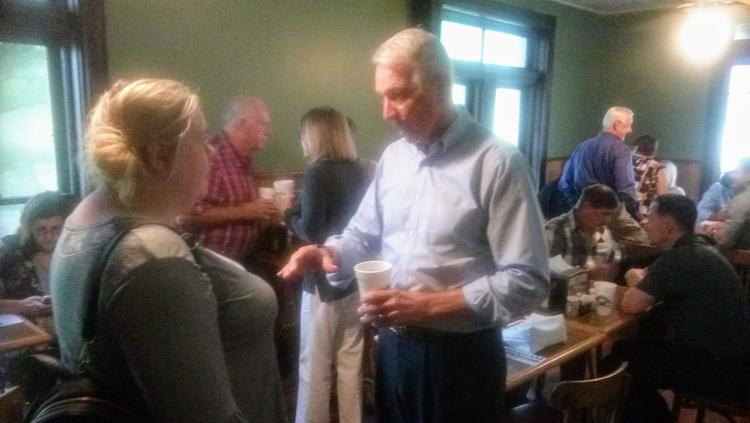 "I know what some of the polls say, but I also know what our polls say," he said. "We're going to get into the runoff, and we're going to beat John Bel."
The final days before the election mostly are about turning out the base, Abraham said. But he also wants to reach undecided voters, which polls released by his campaign this week pegged as high as 11 percent of the electorate.
"In this election, they will matter a lot," Abraham said.
Mass media is important, he said, but Louisiana still is a "grassroots state."
"They want to look you in the eye, they want to shake your hand, and they want to hear what you have to say," the congressman said.
Dr. Jarrett Flood, a Republican physician and business owner from St. Amant, said he supported Abraham for governor primarily because he liked his record in Congress. Flood said he considered supporting Rispone but never heard an "actionable plan" from the businessman and was turned off by his negative ads against Abraham.
Flood said Edwards has "done a good job" as governor and praised him for signing anti-abortion legislation during the recent session.
"Louisiana needs a change," Flood said.