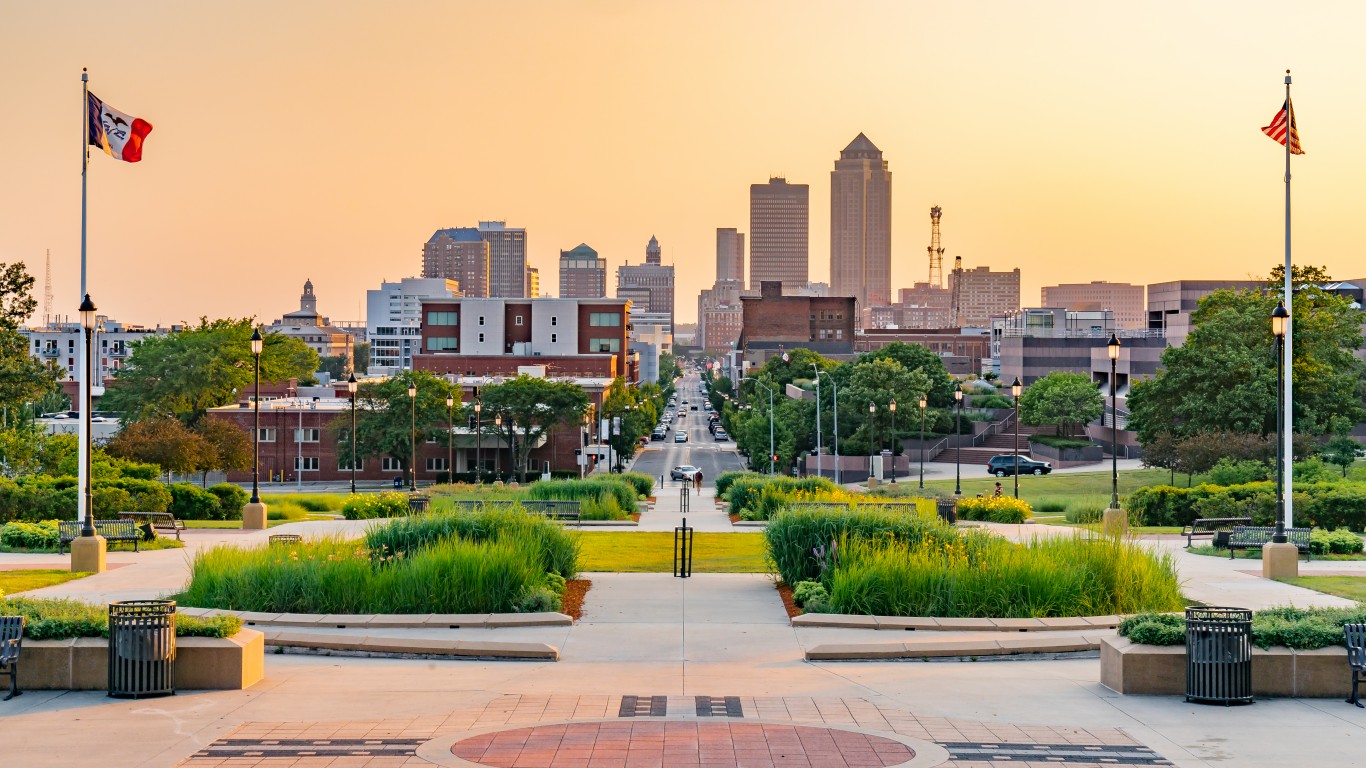 Violent crime -- a broad category of offenses that includes rape, robbery, aggravated assault, and homicide -- is on the rise in the United States. According to FBI data, there were a total of 1.3 million violent offenses reported in 2020, or 388 for every 100,000 people -- a 5% increase from 2019.
The uptick was led by a spike in homicide. The number of murders surged by nearly 30%, from 16,669 in 2019 to 21,570 in 2020, the largest year-over-year increase on record. The spike in murders came during a year of national turmoil marked by coronavirus lockdowns, mass protests against police misconduct, and a sharp rise in gun sales. These are the states buying the most guns.
Despite the increase, the national violent crime rate remains well below the highs reported in the 1990s. Still, crime is ultimately a local phenomenon, and in some parts of the country, violence is much more common than in others.
Iowa has the second lowest violent crime rate in the Midwest, but only the 17th lowest among all states. There were 9,601 violent crimes reported in the state in 2020, or 303 for every 100,000 people.
Over the last year, Iowa's violent crime rate ticked up by 13.9%, more than double the national increase. The increase in violence was led by homicide. There were 111 murders committed in Iowa in 2020, an 85% increase from the 60 murders reported in the state in 2019.
All crime data used in this story is from the FBI and is for the year 2020.
| Rank | State | Violent crimes per 100,000 people, 2020 | Total violent crimes, 2020 | Total homicides, 2020 | 1-yr. change in violent crime rate (%) |
| --- | --- | --- | --- | --- | --- |
| 50 | Maine | 108.6 | 1,466 | 22 | -5.7 |
| 49 | New Hampshire | 146.4 | 2,000 | 12 | -4.0 |
| 48 | Vermont | 173.4 | 1,081 | 14 | -14.3 |
| 47 | Connecticut | 181.6 | 6,459 | 140 | -1.1 |
| 46 | New Jersey | 195.4 | 17,353 | 329 | -5.6 |
| 45 | Virginia | 208.7 | 17,925 | 524 | 0.3 |
| 44 | Rhode Island | 230.8 | 2,440 | 32 | 4.4 |
| 43 | Wyoming | 234.2 | 1,364 | 18 | 7.8 |
| 42 | Idaho | 242.6 | 4,432 | 41 | 8.4 |
| 41 | Hawaii | 254.2 | 3,576 | 41 | -11.0 |
| 40 | Kentucky | 259.1 | 11,600 | 323 | 19.3 |
| 39 | Utah | 260.7 | 8,471 | 102 | 10.6 |
| 38 | Minnesota | 277.5 | 15,698 | 190 | 17.4 |
| 37 | Mississippi | 291.2 | 8,638 | 315 | 4.8 |
| 36 | Oregon | 291.9 | 12,380 | 125 | 2.6 |
| 35 | Washington | 293.7 | 22,596 | 301 | -0.1 |
| 34 | Iowa | 303.5 | 9,601 | 111 | 13.9 |
| 33 | Ohio | 308.8 | 36,104 | 820 | 5.3 |
| 32 | Massachusetts | 308.8 | 21,288 | 160 | -5.7 |
| 31 | Wisconsin | 323.4 | 18,861 | 308 | 10.3 |
| 30 | North Dakota | 329.0 | 2,518 | 32 | 15.6 |
| 29 | Nebraska | 334.1 | 6,473 | 69 | 11.0 |
| 28 | West Virginia | 355.9 | 6,352 | 117 | 12.4 |
| 27 | Indiana | 357.7 | 24,161 | 505 | -3.6 |
| 26 | New York | 363.8 | 70,339 | 808 | 1.4 |
| 25 | Florida | 383.6 | 83,368 | 1,290 | 1.4 |
| 24 | Pennsylvania | 389.5 | 49,793 | 1,009 | 27.1 |
| 23 | Maryland | 399.9 | 24,215 | 553 | -12.0 |
| 22 | Georgia | 400.1 | 42,850 | 943 | 17.4 |
| 21 | North Carolina | 419.3 | 44,451 | 852 | 12.8 |
| 20 | Colorado | 423.1 | 24,570 | 294 | 11.1 |
| 19 | Kansas | 425.0 | 12,385 | 100 | 3.5 |
| 18 | Illinois | 425.9 | 53,612 | 1,151 | 4.7 |
| 17 | Delaware | 431.9 | 4,262 | 73 | 2.2 |
| 16 | California | 442.0 | 174,026 | 2,203 | 0.2 |
| 15 | Texas | 446.5 | 131,084 | 1,931 | 6.6 |
| 14 | Alabama | 453.6 | 22,322 | 471 | -11.2 |
| 13 | Oklahoma | 458.6 | 18,255 | 296 | 6.2 |
| 12 | Nevada | 460.3 | 14,445 | 180 | -6.8 |
| 11 | Montana | 469.8 | 5,077 | 54 | 16.0 |
| 10 | Michigan | 478.0 | 47,641 | 754 | 9.3 |
| 9 | Arizona | 484.8 | 35,980 | 513 | 6.5 |
| 8 | South Dakota | 501.4 | 4,476 | 40 | 25.7 |
| 7 | South Carolina | 530.7 | 27,691 | 549 | 3.8 |
| 6 | Missouri | 542.7 | 33,385 | 723 | 9.6 |
| 5 | Louisiana | 639.4 | 29,704 | 734 | 16.4 |
| 4 | Arkansas | 671.9 | 20,363 | 321 | 14.9 |
| 3 | Tennessee | 672.7 | 46,328 | 663 | 13.0 |
| 2 | New Mexico | 778.3 | 16,393 | 164 | -6.5 |
| 1 | Alaska | 837.8 | 6,126 | 49 | -3.4 |