A growing chunk of school funding is bypassing the classroom to pay for past due retirement bills, according to a new study that found such spending increased more in Illinois than any other state.
A study by Bellwether Education Partners found that education spending on a national level over the 10 years ending in 2014 slightly increased, by 1.3 percent, even though student population grew by more than 3 percent. But spending on education benefits, typically teacher retirement and retiree healthcare spending, has exploded. From 2005 to 2014, the national benefit spending increased by 22 percent on average, leaving fewer dollars for everything else.
"Benefit spending is increasing much faster than K-12 spending overall, and as a result, benefits are eating up a rising share of school district budgets," according to the study.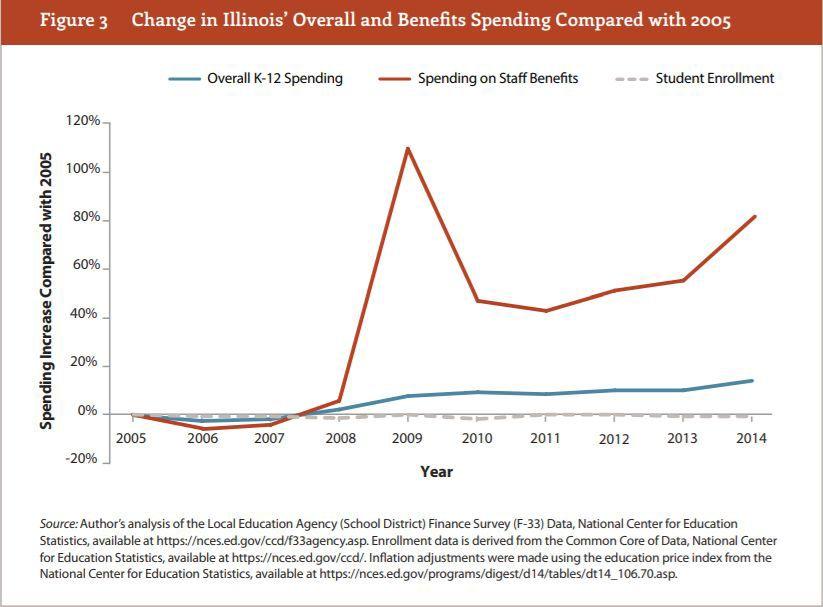 Illinois' benefit spending from all sources increased at more than five times the rate that the state's overall education budget grew over that same time, an 85 percent increase from federal, state and local sources.
"Illinois is in dire straits in terms of ballooning benefit spending," said Max Marchitello, senior policy analyst with Bellwether Education Partners.
The Teachers Retirement Fund of Illinois, which manages the state's teacher pension funds outside of Chicago, ow its own is more than $73 billion underfunded.
Blame for underfunded pensions is often laid at the feet of previous state and local officials, all too happy to offer future benefits that had no effect on immediate budgets.
Tier I teachers in Illinois – those hired before Jan. 1, 2011 – have benefit plans that include compounding cost-of-living increases.
Even with a revamp of the state's education funding formula, the report predicts the problem will only get worse because of the amount of debt and mandated payment increases.
"Illinois' problem of ballooning benefits spending is unlikely to slow down anytime soon," Marchitello wrote in the report. "The state's recent reform of its school funding system and the decision for the state to pick up the bill for Chicago Public School's benefit costs are positive but won't be sufficient to disrupt this troubling pattern."
The problem of growing teacher benefits has gotten relatively little attention, Marchitello wrote, noting that nationally it amounted to a $7 billion cut in instructional spending.
"As a comparison, a $7 billion cut in instructional spending is comparable to cutting the main federal investment in education, Title I, Part A, by more than 40 percent. If Congress proposed slashing Title I by more than 40 percent, educators, parents and community members across the country would inundate the Capitol with calls to protect the funds," he wrote. "And yet these cuts occurred quietly, state by state and year after year, and hardly anyone noticed."
Even though more money is going to teacher benefits, teachers might not notice.
"For teachers, higher benefit costs do not necessarily mean they're receiving more valuable pensions or more generous health care," according to the report. "It is instead more likely that the state is spending more to pay down debts. Worse still, growing benefit costs make salary increases far less likely because states by and large are not increasing their K-12 investments."
The study recommends careful consideration and reforms. 
"Legislators also feel the squeeze," Marchitello wrote. "Their investments in education are not going as far as they used to, and fewer dollars make their way into the classroom. To increase K-12 funding, state policymakers need to make even larger allocations to accommodate the ever-increasing benefit costs. Doing so can lead to politically difficult decisions, such as raising taxes, as Arizona recently did."