Ten years after the Great Recession, U.S. states continue to deal with the fallout of decisions made during the downturn and some, like Illinois, face a real threat of not being prepared for a future recession, according to a new report from the Pew Charitable Trusts.
The report examined how states have fared in the wake of the 18-month Great Recession that ended in June 2009. Pew researchers found that some states continue to face financial challenges despite economic growth.
"The legacy of the lost decade is easily overlooked given the second-longest U.S. economic expansion on record, arguably the longest bull market for stocks in U.S. history, unemployment at near-historic lows, and a recent spurt in the growth of state tax revenue," according to the report. "A closer look reveals that many states are still coping with lingering – maybe even lasting – effects on their finances."
Pew Project Director Barb Rosewicz said that while the recession seems distant now, its effects are still evident at the state level.
"Even though the recession seems really far off, many states are still dealing with the consequences of the downturn," she said. "They're just camouflaged by the good economic news."
Illinois had the same unemployment spikes as other states, which led to steep declines in funding. However, Illinois' pension debt grew at a rate higher than most other states during that time, Rosewicz said.
"It's not unusual, having grown for all but a handful of states, but in Illinois' case, it grew quite a lot," she said. 
The liabilities could make the next economic downturn difficult for Illinois. The state still has to pay those bills because Medicaid and pensions costs "both apply pressure on your budget at a time when your budget's under pressure because revenue has fallen," Rosewicz said.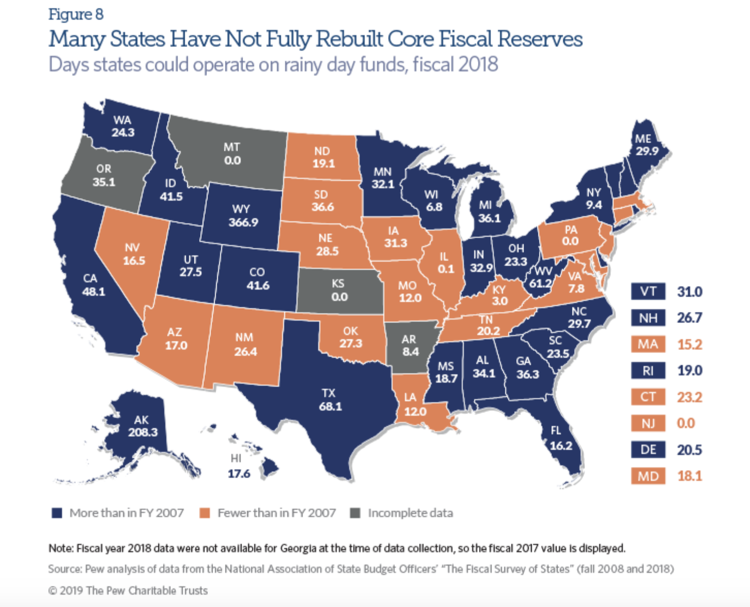 Since the end of the data examined in the report, Illinois has increased K-12 spending and passed a $45 billion infrastructure plan that's mainly paid for with tax hikes and increased borrowing. And the state's pension debt has grown.
The Pew report identified several national trends:
Twenty-three states are making do with less and still seeing lower general revenue fund spending than before the recession

Higher education funding has fallen 13 percent since the beginning of the recession, with the majority of states also spending less on K-12 education 

The majority of states, Illinois included, send less aid to local governments

Nineteen states have yet to replenish their rainy day funds in proportion to their operating funds to pre-recession levels

Pension liabilities have grown to $1.35 trillion, meaning Illinois and other states have that much more in calculated costs that will be incurred after subtracting assets
"Nearly a fifth of states collect less revenue than before the downturn, more than a third have smaller rainy day funds, and almost half spend less from their general fund budgets than a decade earlier," according to the report. "Meanwhile, fixed costs – for Medicaid and underfunded public pension systems – are higher in almost every state."
The report also found that Illinois and other states weren't prepared for another economic slide.
"One risk is that another recession could hit before states fully recover from the 2007-09 downturn, cementing reduced levels of support for some of those services," according to the report. "Both fiscal and political trends over the past decade suggest that at least some changes in state spending patterns could become permanent."