An Illinois state senator accused of embezzling nearly $275,000 from a labor union said Friday that his indictment was based on false claims by a former Teamsters boss who recently pleaded guilty to extortion.
State Sen. Tom Cullerton, D-Villa Park, was charged with one count of conspiracy to embezzle from the Teamsters Local Union 734 employee benefit plan, 39 counts of embezzlement from another Teamsters union, and one count of making false statements, according to a news release from the U.S. Attorney for the Northern District of Illinois. The indictment was handed down Thursday in Chicago.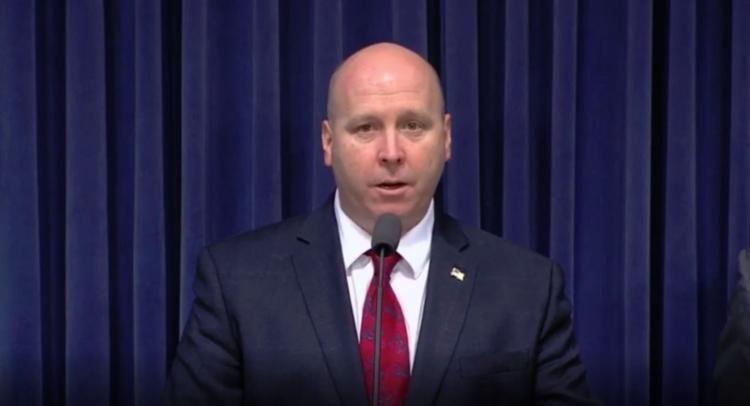 "As an honorably discharged veteran of the United States Army and highly respected public servant, Tom Cullerton is a person who is dedicated to his family, constituents, and all Illinoisans," Cullerton's attorney, John Theis, said. "The action by the U.S. Department of Justice has nothing to do with Mr. Cullerton's work in the Illinois State Senate, but is the result of false claims by disgraced Teamsters boss John Coli in an apparent attempt to avoid penalties for his wrongdoing."
Coli pleaded guilty to extorting a film production company in Chicago and agreed to cooperate with authorities as part of a plea deal.
The U.S. Attorney's office alleges Cullerton, who was a Teamsters member before being elected to the Illinois Senate in 2012, was hired by Teamsters Joint Council 25 to be an organizer. Over the next three years, Cullerton did little work as an organizer, prosecutors said.
"From March 2013 to February 2016, Cullerton fraudulently obtained from Joint Council 25 and its members approximately $188,320 in salary, bonuses, and cellphone and vehicle allowances, as well as approximately $64,068 in health and pension contributions," the U.S. Attorney's office alleged. "Cullerton used the proceeds of the payments to pay personal expenses, such as his mortgage, utilities and groceries."
The indictment also claims Cullerton fraudulently obtained $21,678 in reimbursed medical claims from Local 734's Health and Welfare Fund.
"These allegations are simply not true, and we will be defending the charges in court," Theis said.
In economic interest disclosure forms filed with the Illinois Secretary of State, Cullerton's April 2015 statement had "n/a" scribbled out with "Joint Council 25 Organizer" as an amendment to the section asking about any income above $1,200 from entities doing business in the state. He did not have Joint Council 25 listed on his 2016 economic interest statements.
"These allegations are simply not true, and we will be defending the charges in court," said Theis' statement.
Gov. J.B. Pritzker said he was "extremely disappointed and frustrated" after the indictment.
"This news that I just heard is extraordinarily frustrating and disappointing. I don't have all the details of this yet, but I can say this, our elected officials should be held to a very high ethical standard and of course they should be following the law," the governor said.
Pritzker said he doesn't know what's happening with the recent FBI searches, investigations and indictments in Chicago and elsewhere in the state's political circles.
"All I know is if people are breaking the law, if people are breaching their duty to the state, they should be found out, they should be held accountable," he said. "You get elected to serve the public interest. Everything you do should be an attempt to fulfill the duty you're asked to fulfill. It appears they're finding people are not doing that."
Pritzker did not say if he wants Cullerton to step down, something Republicans called for Friday. 
"For too long, Illinoisans have been hurt by self-serving and self-dealing politicians," Illinois Republican Party Chairman Tim Schneider said in a statement. "Cullerton has betrayed the trust of the voters of his district and citizens of this state. He should do the right thing and resign immediately."