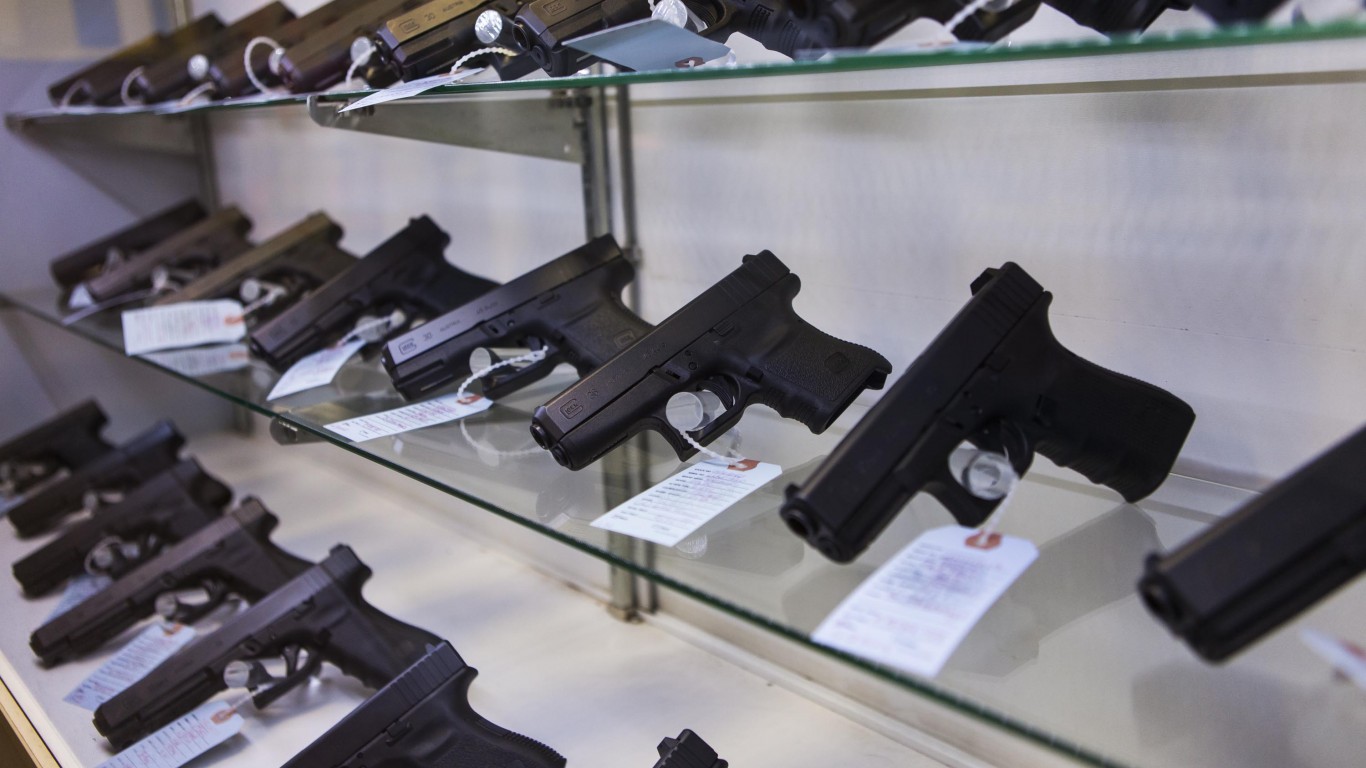 Homicides surged in the U.S. by nearly 30% in 2020, the largest annual increase since record keeping began. The same year, U.S. firearm sales hit an all-time high of nearly 23 million, increasing 24% from 2019, according to consulting firm Small Arms Analytics.
The increase in gun sales at the same time that murders spiked may be more than mere coincidence. Based on local police department data compiled by the FBI, an estimated 77% of murders were committed with a firearm in 2020. Firearm homicide numbers vary considerably by state, however.
In Idaho, a total of 39 murders committed in 2020 had a weapon associated it. Of those murders with a known weapon type, 64.1% involved a firearm, the 36th most of the 45 states with available data.
Nationwide, handguns are by far the most commonly used firearm type in murder cases, and in Idaho, handguns were used in 18 of the 25 murder cases involving firearms.
According to the FBI's Uniform Crime Reporting Program, the overall murder rate in Idaho stands at 2.2 for every 100,000 people, compared to the national homicide rate of 6.5 per 100,000.
| Rank | State | Share of homicides involving a gun, 2020 (%) | Total murders involving a gun, 2020 | Total murders involving a handgun, 2020 |
| --- | --- | --- | --- | --- |
| 1 | Delaware | 89.2 | 66 | 32 |
| 2 | Illinois | 86.7 | 896 | 762 |
| 3 | Wyoming | 85.7 | 12 | 10 |
| 4 | Tennessee | 85.4 | 566 | 234 |
| 5 | Louisiana | 85.1 | 593 | 242 |
| 6 | South Carolina | 84.5 | 453 | 240 |
| 7 | Kentucky | 84.5 | 261 | 155 |
| 8 | Missouri | 82.9 | 470 | 265 |
| 9 | Maryland | 81.6 | 400 | 354 |
| 10 | Virginia | 80.7 | 423 | 212 |
| 11 | Michigan | 79.2 | 595 | 237 |
| 12 | Indiana | 78.5 | 366 | 246 |
| 13 | North Carolina | 78.2 | 580 | 325 |
| 14 | Texas | 77.4 | 1491 | 751 |
| 15 | Ohio | 76.8 | 600 | 269 |
| 16 | Arkansas | 76.3 | 235 | 104 |
| 17 | Iowa | 75.7 | 84 | 33 |
| 18 | Minnesota | 75.1 | 142 | 79 |
| 19 | Rhode Island | 75.0 | 24 | 4 |
| 20 | Wisconsin | 74.9 | 227 | 85 |
| 21 | Massachusetts | 73.1 | 117 | 64 |
| 22 | California | 72.9 | 1606 | 1032 |
| 23 | Utah | 72.8 | 67 | 43 |
| 24 | Kansas | 70.8 | 63 | 31 |
| 25 | Oregon | 70.5 | 86 | 43 |
| 26 | Connecticut | 70.0 | 98 | 23 |
| 27 | New Jersey | 69.6 | 229 | 156 |
| 28 | Colorado | 68.9 | 202 | 141 |
| 29 | Arizona | 68.7 | 292 | 219 |
| 30 | Maine | 68.2 | 15 | 10 |
| 31 | West Virginia | 67.6 | 69 | 38 |
| 32 | Oklahoma | 67.5 | 197 | 140 |
| 33 | Nebraska | 66.1 | 41 | 31 |
| 34 | New York | 64.7 | 517 | 415 |
| 35 | Vermont | 64.3 | 9 | 6 |
| 36 | Idaho | 64.1 | 25 | 18 |
| 37 | New Mexico | 63.3 | 88 | 29 |
| 38 | Nevada | 62.2 | 107 | 77 |
| 39 | Washington | 59.4 | 177 | 102 |
| 40 | New Hampshire | 50.0 | 6 | 3 |
| 41 | Montana | 49.1 | 28 | 16 |
| 42 | Alaska | 45.8 | 22 | 16 |
| 43 | North Dakota | 45.2 | 14 | 5 |
| 44 | Hawaii | 41.0 | 16 | 5 |
| 45 | South Dakota | 40.8 | 20 | 13 |