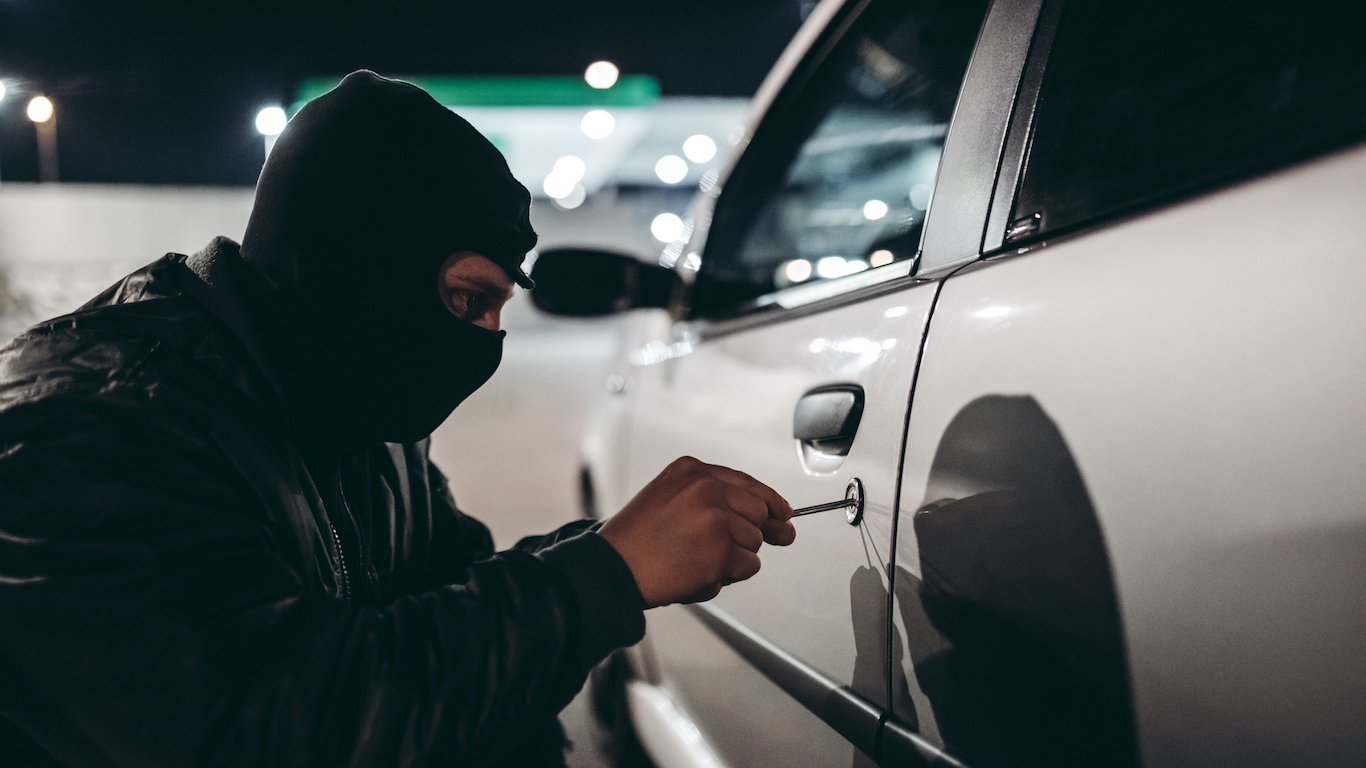 Motor vehicle theft, one of the most serious offenses tracked by the FBI, is on the rise in the United States. There were a total of 810,400 motor vehicle thefts nationwide in 2020, the most in over a decade.
Motor vehicle theft can be either the theft or attempted theft of a vehicle, such as a car, truck, ATV, or motorcycle. Some experts attribute the rising rates of vehicle theft to the COVID-19 pandemic, which led to vehicles sitting unattended and unused for longer than usual. Additionally, vehicle theft is often committed for monetary gain, and the pandemic sent unemployment soaring and left many Americans struggling financially.
While motorists nationwide now face a greater risk of vehicle theft than they have in many years, in some parts of the country, car owners are far more likely to be victims of car theft than in others.
The Macon-Bibb County metro area, located in Georgia, has one of the highest motor vehicle theft rates in the United States. According to data from the FBI, there were 842 vehicle thefts in the metro area in 2020, or 367 for every 100,000 people - far higher than the motor vehicle theft rate nationwide of 246 per 100,000 people.
Motor vehicle theft - along with larceny and burglary - is one of three criminal offenses that comprise the property crime category. Due in large part to the higher than average vehicle theft rate, the overall property crime rate in the metro area also exceeds the comparable national rate. There were 2,746 property crimes reported for every 100,000 people in the metro area in 2020, compared to 1,958 per 100,000 nationwide.
All crime data used in this story is from the FBI's 2020 Uniform Crime Report. Limited data was available in the 2020 UCR for areas in Alabama, Maryland, Pennsylvania, and Illinois, though these states were not excluded from our analysis. Only metro areas for which the boundaries defined by the FBI match the boundaries defined by the U.S. Census Bureau were considered.
| Rank | Metro area | Vehicle thefts per 100k people, 2020 | Total vehicle thefts, 2020 | Total property crimes per 100k people, 2020 |
| --- | --- | --- | --- | --- |
| 1 | Bakersfield, CA | 839 | 7,537 | 3,106 |
| 2 | Denver, CO | 734 | 22,011 | 3,303 |
| 3 | Albuquerque, NM | 663 | 6,120 | 3,654 |
| 4 | Fairbanks, AK | 644 | 212 | 4,152 |
| 5 | Pueblo, CO | 640 | 1,078 | N/A |
| 6 | San Francisco, CA | 604 | 28,575 | 3,008 |
| 7 | Yuba City, CA | 594 | 1,039 | 2,440 |
| 8 | Salt Lake City, UT | 544 | 6,785 | 3,817 |
| 9 | Billings, MT | 543 | 998 | 3,472 |
| 10 | Tulsa, OK | 535 | 5,378 | 3,110 |
| 11 | St. Joseph, MO-KS | 531 | 663 | 3,541 |
| 12 | Odessa, TX | 518 | 876 | 2,957 |
| 13 | Chattanooga, TN-GA | 514 | 2,923 | 3,070 |
| 14 | San Jose, CA | 506 | 10,058 | 2,227 |
| 15 | Vallejo, CA | 502 | 2,243 | 2,391 |
| 16 | Merced, CA | 485 | 1,346 | 2,146 |
| 17 | Salem, OR | 480 | 2,098 | 2,854 |
| 18 | Portland, OR-WA | 472 | 11,845 | 2,678 |
| 19 | Seattle, WA | 457 | 18,428 | 3,157 |
| 20 | Los Angeles, CA | 448 | 58,823 | 2,095 |
| 21 | Memphis, TN-MS-AR | 445 | 6,001 | 3,719 |
| 22 | Amarillo, TX | 440 | 1,168 | 3,043 |
| 23 | Riverside, CA | 435 | 20,222 | 1,985 |
| 24 | Yakima, WA | 426 | 1,067 | 2,725 |
| 25 | Omaha, NE-IA | 420 | 4,012 | 2,281 |
| 26 | Santa Maria, CA | 413 | 1,837 | 1,986 |
| 27 | Fresno, CA | 409 | 4,072 | 2,481 |
| 28 | Rapid City, SD | 406 | 584 | 2,971 |
| 29 | Pine Bluff, AR | 404 | 350 | 3,048 |
| 30 | Kalamazoo, MI | 404 | 1,074 | 3,307 |
| 31 | Florence, SC | 404 | 828 | 3,601 |
| 32 | Joplin, MO | 403 | 725 | 3,532 |
| 33 | Lubbock, TX | 400 | 1,297 | 3,682 |
| 34 | Anchorage, AK | 394 | 1,202 | 3,405 |
| 35 | Oklahoma City, OK | 393 | 5,613 | 2,916 |
| 36 | Visalia, CA | 388 | 1,802 | 2,025 |
| 37 | Colorado Springs, CO | 385 | 2,896 | 2,653 |
| 38 | Columbia, SC | 382 | 3,234 | 3,272 |
| 39 | Sioux Falls, SD | 381 | 1,040 | 2,524 |
| 40 | Modesto, CA | 381 | 2,091 | 1,974 |
| 41 | Stockton, CA | 380 | 2,897 | 2,333 |
| 42 | Greeley, CO | 378 | 1,251 | 2,163 |
| 43 | Houston, TX | 374 | 26,877 | 2,617 |
| 44 | Las Vegas, NV | 370 | 8,564 | 2,047 |
| 45 | St. Louis, MO-IL | 369 | 10,327 | N/A |
| 46 | Hanford, CA | 368 | 557 | 1,654 |
| 48 | Midland, TX | 368 | 688 | 2,168 |
| 47 | New Orleans, LA | 368 | 4,686 | 2,755 |
| 49 | Santa Cruz, CA | 367 | 998 | 2,266 |
| 50 | Macon, GA | 367 | 842 | 2,746 |